We know that hair loss can be a painful experience. Feeling embarrassed about your thinning hair and wanting to hide it from the world can make you feel desperately low. A lack of self-confidence and low self-esteem can often lead to isolation and we know that many women just don't feel like themselves while they navigate this difficult journey.
Here at Daniel Alain, we are committed to helping you transform your life through wearing hair. And while hair loss is an intensely emotional and distressing experience, we want you to know that you're not alone, and hair loss isn't the end of the journey. We've been helping women find their dream hair for over two decades and we aspire to be your number one resource when it comes to alternative hair solutions. 
In our free ebook The Essential 2023 Wig Buying Guide, we hold your hand as we walk you through the process of finding the right wig for you. You'll learn from real women who have experienced the trauma of losing their hair, just like you. Before getting into the nitty gritty details of buying your first wig, they'll talk you through:
Accepting your hair loss
Seeking support
Doing your research
We know that choosing a wig is a big decision but we hope you'll feel less alone in your hair loss experience, and feel supported as you take your first steps toward the new you.
ACCEPTING YOUR HAIR LOSS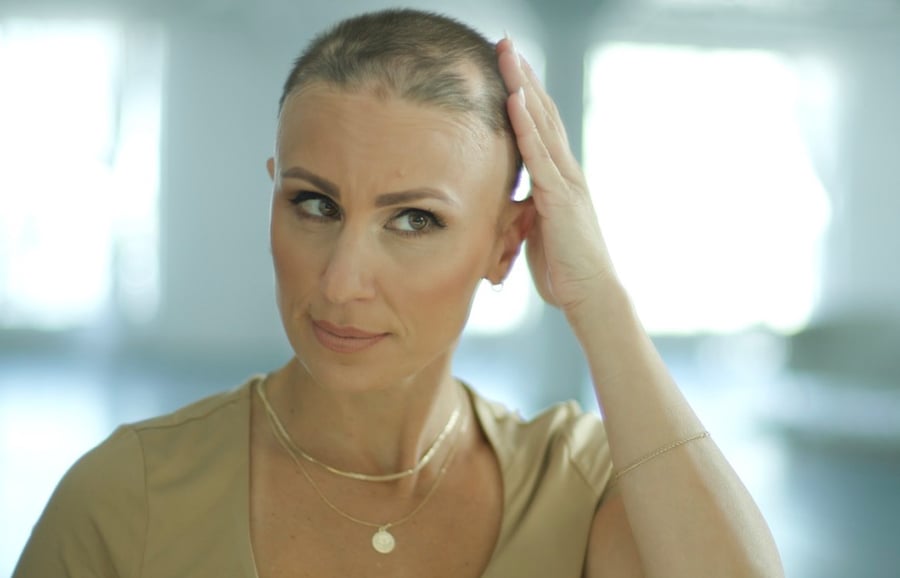 Though it's easier said than done, accepting your hair loss will open doors you never thought possible. Many women pour their hopes into chasing hair loss solutions that sadly won't work for everyone. While it's important to explore all your options, the truth is, sometimes nothing works. Accepting your hair loss instead of denying it, is the first step in the journey. 
"It starts with being realistic about what the future holds for your hair." Mirna Wilson, Daniel Alain customer.
You might not be in a place where accepting your hair loss feels possible. And that's ok. Even the most experienced hair loss warrior has bad days where they dread washing their hair, catching a glimpse of themselves in a mirror, or seeing their greatest insecurity captured by a camera's lens. Hair loss hurts. But there is a light at the end of the tunnel. Your progress may not be linear and you may stumble and fall when hurdles come your way, but you can get through it. 
SEEKING SUPPORT FOR YOUR HAIR LOSS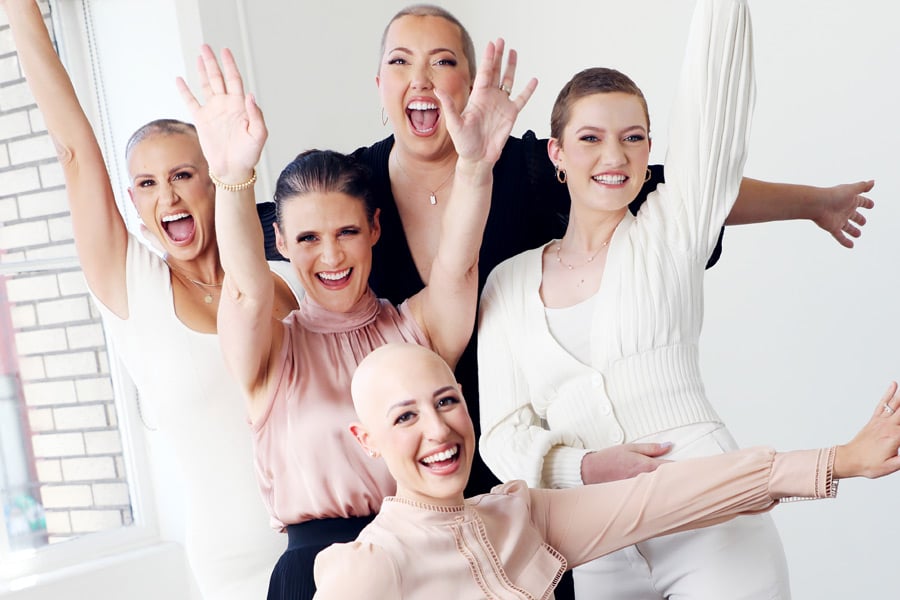 Hair loss is often shrouded in feelings of shame and embarrassment and it's no wonder people don't like to talk about their greatest insecurities with others. It can be so hard to share our vulnerabilities with others, even with those who love us the most. We all want to appear perfect. Nobody wants to expose their flaws. 
Hair loss can be hard to talk about. 
However, devoting time and energy into concealing your insecurities, keeping your hair loss a secret, and not sharing your pain with those around you is often a heavier load to bear than gaining the courage to seek support.
---
DOING YOUR WIG RESEARCH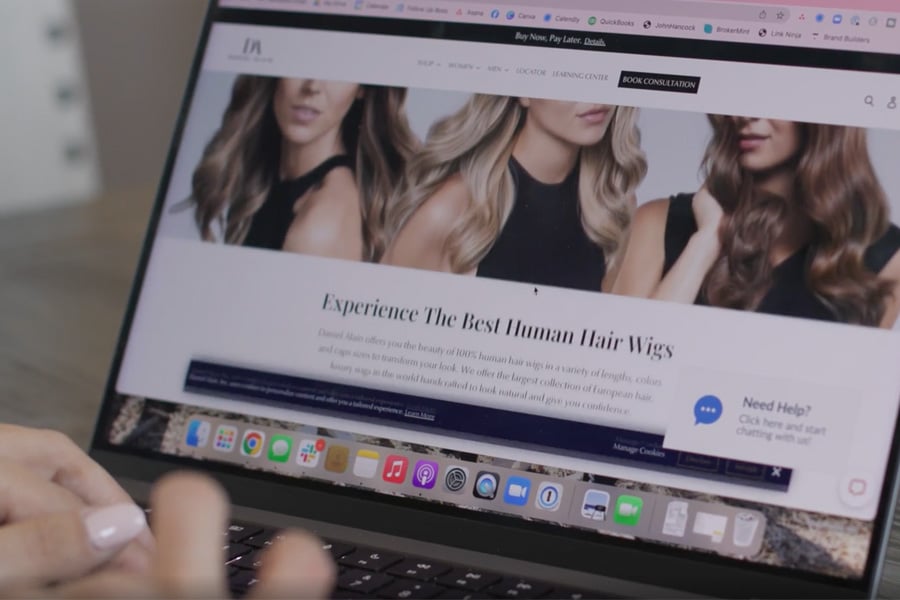 The most important factor of a good wig is how it makes you feel. If you're not walking around in a wig that makes you feel on top of the world, then something's wrong. When choosing the right wig for you, there are a few considerations.
Comfort - Your wig needs to be comfortable every time you wear it. No tightness at the temples causing tension headaches or itchy seams. 
Security - Wigs need to feel safe and secure on the head and nobody wants to be caught in an embarrassing situation on a windy day or during a close embrace. 
A Natural Look - Fake-looking wigs are a thing of the past. And in their place? Exquisite pieces made by experts, that use the best materials and have the most natural appearance.
Versatility - A wig needs to work with your style. If you want to wear high ponytails, messy buns, or loose beachy waves, your wig needs to keep up and meet your demands every time.
---
The goal is to find a wig that naturally reflects your personality and beauty. But navigating the maze of options is exhausting. Let us be clear: you are not alone. Millions of people from all walks of life wear wigs every day, and by 2023, the global wig market is projected to climb past $10 billion.
That's a lot of fabulous hair flipping going on!
Unfortunately, this popularity comes with a caveat: it's daunting to sort through the endless variations to find the perfect wig. How can you have full-confidence in your selection with a crowded marketplace riddled with misinformation?
Knowledge is power, which is why we've consulted with industry pros and put together this ultimate guide to buying the best wig!
Ready to love your look?
Read on as we cover every aspect of buying a great wig online to get you closer to finding your best hair.
1. CHOOSE A HAIR TYPE: HUMAN HAIR VS. SYNTHETIC HAIR WIGS
Your first decision when buying a wig is to decide between synthetic vs. human hair. There are pros and cons to each type of hair, and we take a deep dive into synthetic vs. human hair in this guide but let's explore the basics.
Human Hair Wigs
Human hair wigs are made from 100% human hair and can be fully customized and styled daily. However, it's important to note that there are different types of human hair and two primary categories: European and Asian hair.
Asian hair accounts for the 98% majority in the marketplace, and only about 2% of human hair wigs use premium European hair.
European Human Hair
European human hair comes from the ponytails of European women. During the 1980s-90s, many Eastern European women donated their hair for a good profit. However, as socioeconomic status improved over time, collecting European ponytails has fallen out of practice. That's why authentic European hair is scarce.
What makes European hair premium is that the cuticle is intact, creating a beautiful natural flow, shine, and direction of movement.
Due to their rarity, European human hair wigs fall into the luxury wig category because they look the most natural, last the longest with proper care, and have strict quality control, manufacturing, and processing standards.
Asian Human Hair Wigs
The main sources of Asian hair wigs are China, India, Vietnam, and Mongolia. China contributes about 90% of the human hair wig, topper, and extension market, and there are two primary methods for collecting Asian hair:
Floor hair:

 

The donor collects hair from shedding or brushing, saves it up, and sells it to a manufacturer who then sorts and processes the hair.
Remy ponytails:

 

These are typically collected when Indian women donate their hair at a temple in a ritualistic offering to the gods. The temple then sells the hair to manufacturers. Alternatively, manufacturers buy Remy ponytails from local women who sell their hair for a profit.
Both European and Asian human hair wigs contain real human hair, but each has pros and cons.
Pro:

 

While there are different types of human hair wigs, overall, they will look more natural than synthetic hair fibers, especially with the cuticle kept intact and a single donor ponytail.
Con: High-quality human hair wigs are expensive due to high standards for manufacturing, sourcing, and processing.
Starr Fox, National Sales Director and Consultant of Daniel Alain Follea, has worked in the hair industry for over 20 years and said that styling preferences play a large role.
"If you want to change your style naturally, your hair would never look the exact same everyday with a human hair wig.  With a synthetic wig, it will."
Synthetic Wigs
The appeal of synthetic wigs is that they're ready to wear out of the box, and they tend to be more affordable. However, they have limitations with styling and a shorter lifespan than human hair wigs. You'll also notice that synthetic wigs have a high sheen, which looks less natural than human hair, especially in the daylight.
Synthetic wigs contain a variety of fibers like polyester, acrylics, and PVC (polyvinyl chloride). The type of synthetic fibers used influences the wig's sheen. For example, low-quality synthetic fibers will have the highest sheen and lack a natural-looking texture and fluidity.
For those not wanting to draw attention to their coverage, synthetic wigs may pose a higher risk for looking unnatural. However, not everyone can invest thousands of dollars into a premium hair wig, but keep in mind buying multiple synthetic wigs over time can get pricey too.
"People purchase according to price, and they often don't wear them.  They (end up) buying two, three, four, five wigs to find the right one and, in the end, have spent the same amount of money as a premium human hair wig."
If human hair wigs aren't an option for you at this time, consider choosing a synthetic wig made from Kanekalon fibers, the best quality synthetic in the market. Buying a premium synthetic wig is still affordable compared to luxury European hair wigs, and you'll have less maintenance overall. Once you decide what type of hair is best for you, do your due diligence, particularly with wearing human hair. Unfortunately, there is misleading information and false claims in the marketplace because the industry is unregulated. That's why a buyer beware approach is best when researching brands and their reputations on social media and reading customer reviews.
Pro: Synthetic wigs are affordable, ready-to-wear, and pre-styled to retain a great look over time.
Con: Due to their synthetic fibers, these wigs won't look as natural as human hair wigs, even with the highest quality Kanekalon fibers.
2. FIND THE RIGHT CAP CONSTRUCTION FOR YOU
Let's talk about the importance of cap construction when buying a wig. Because ultimately, it can have a significant impact on your comfort, styling preferences, and how you prefer your hairline and part to look.
Your bio hair also plays a role in choosing the right cap. For example, if you have Alopecia Totalis or Universalis, you'll most likely want to select a wig cap offering the most grip and security. Here's a look at the various wig cap constructions and their respective features:
Lace Front:
A lace front cap has a piece of ventilated lace across the forehead that creates a seamless hairline. Ventilation is a process done by hand where 1-3 pieces of hair are tied in a knot around the lace.
The lace is translucent to blend with your natural skin tone easily.
The hairline directs hair away from the face for a more natural look.
Depending on the hair quality and craftsmanship, the knots on the front hairline can be virtually undetectable or somewhat noticeable.
Closed Front
Features "Under Ventilation," a technique at the front hairline that integrates with your natural hair.
Is an excellent choice for wearing bangs or side fringe.
French Top:

Incorporates two layers of material: one lace and one monofilament, which hides the knots between the two layers, making them undetectable.
Creates a natural look on the top of the wig .
The layers create a soft and comfortable feel on the scalp.
Typically more expensive due to the materials used and the time to craft the piece.

Skin Top / Monofilament Top:

The smooth and thin nature of a monofilament material top creates the illusion of a natural scalp and part.
Hair is ventilated to the top of the cap allowing for versatile styling and parting.
The knots are visible on the top of human hair wigs.

Lace Top:

The knots are tied directly onto the lace and are therefore visible on the top of the wig.
Easy to move the hair in any direction.
This style is known for providing maximum volume.
Lighter and more breathable than monofilament tops.
100% Hand-tied / Knotted:
Moves the most naturally because each hair strand is individually knotted and tied to a spandex cap.
The most comfortable and softest style of wig cap that's great for wearing all day.
Lightweight and breathable.
Easy to style, wear in a ponytail or bun, comb, and clean.
Machine Wefted Back:
Hair is sewn on tracks that are then sewn onto the back of the wig.
Spandex cap construction.
The back of the wig may feel heavier and thicker due to extra material.
Sturdy construction for worry-free wearing.
Certain hairstyles like buns and middle to high ponytails are limited.
So, which cap construction is the best for beginners? Starr explained that the materials used have a significant impact on the wig's comfort and movability:
"Better quality lace is softer on the skin, so it won't be itchy. If the inside of the cap is lined, you won't be poked by inverted hairs. Some wigs cause itching because the hair works its way back through, so it pokes you. However, If the cap is lined, it has a harder time poking through."
Are you still with us? We know it's a lot to take in, but cap construction is vital for deciding the level of volume you want, style preferences, where you like your part, and how you integrate your bio hair (if applicable).
Now that we've covered the crucial details of buying a wig, it's time for some fun: finding your style!
3. START BROWSING DIFFERENT WIG STYLES

If you have a firm idea of your hair identity, you'll likely want to stay consistent with your wig. For example, if you're known for having thin, blonde hair, you'll want your wig to amplify your natural style.
But there are absolutely no rules here because it boils down to what makes you feel the best; you can be as experimental as you want.
Starr's advice?
"Take your time, don't feel pressured or afraid to ask questions. It's about making you feel your best. It's kind of like a partner; if you're going to keep (your wig) around, don't settle."
Wearing your wig daily means you'll likely spend more time with it than with your significant other. All the more reason to fall in love with your hair!
So, what are your options?
Wigs vs. Toppers: What's The Difference?
If you're looking for full coverage, a wig is going to be the best choice. However, if you want to flaunt your natural tresses with a little bump to boost volume, a hair topper is a great solution. A topper needs a little blending, whereas wigs offer total coverage. Both are excellent choices, and it ultimately comes down to what works best for you. When you start beaming and your cheeks hurt from smiling, that's a good indication you've found the one!
For motherhood blogger @being_mrs_brown, a wig was the right choice.
"It was easier emotionally to decide to wear wigs before my hair loss and shedding got too severe. It's really gotten thin lately, and I can't imagine the emotional pain I'd be experiencing if I didn't have wigs I loved to put on each day."
Face Shape
Your face shape may influence what type of wig you choose, but it's not always a key factor. Face shape plays a more significant role with ready to wear synthetic wigs because they are pre-styled. For instance, someone with a round face may opt for a long wig for an elongating effect.
However, Starr says this truly isn't the primary concern with choosing human hair wigs.
"The beauty of a human hair wig is that it can be fully customized, even with color. If they want a fringe, they can wear a fringe. If they want a stacked bob, they can wear a stacked bob. People think they're stuck in one look, but with a human hair wig, they can have whatever style they want and style it differently every day."
Length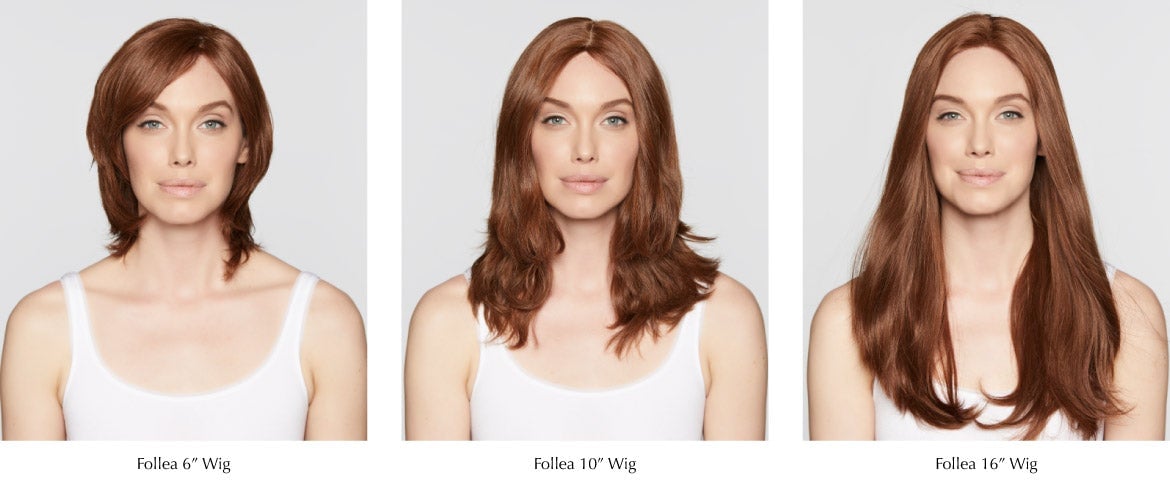 Follea wig collections offer various lengths from 5" to 16"
Hair length is mainly going to depend on comfort, lifestyle, and style preference. There are three length categories, but each brand may have different length options.
Short wigs  - These frame the face and lay at the nape of the neck.
Medium length wigs

 

- the length generally falls around the shoulders.
Long wigs

 

- These fall past the shoulders and drape around the mid-back to about 16" or more.
Length is a general starting point, but it's not limiting because many wigs can be customized, cut, colored, and styled — especially human hair wigs.